When an older teen or adult looks in the mirror and doesn't like his or her smile, it's a problem. Yet, some people dislike the "metal mouth" appearance of traditional wire and bracket braces, too.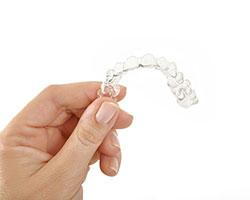 What's the solution? It may be Invisalign clear aligners, one of many cosmetic dentistry services offered by Port Orchard family dentists Drs. Peter A. Grieser, Kevin L. Yoder, and Tracy C. Sullivan.
What are Invisalign Aligners?
Invisalign aligners straighten a variety of orthodontic problems such as crowding, tooth rotation, under bite, over bite, gaps and other tooth alignment issues that effect smile function, aesthetics and health. Many Invisalign patients have never had orthodontic treatment. And even for those that have, according to the American Association of Orthodontists, many adults experience shifting of their teeth even if they had braces as a child. All in all, Invisalign treatment helps people of all ages, and works well for all but the most complex of orthodontic cases.
Invisalign aligners are custom-made from a high-quality, BPA-free plastic. They fit tightly over the top and bottom teeth. Usually delivered in a series of 18 to 30 pairs, the aligners exert gradual pressure, gently moving teeth into better positions over a period of 9 to 18 months. Average treatment time is about a year.
Every 2 to 3 weeks, the patient changes their aligners to the next set in the series. They also see Dr. Grieser, Yoder, or Sullivan every 4 to 6 weeks for a progress check. Dental visits are quick and comfortable, with no painful and time-consuming adjustments.
Invisalign is Invisible
Teens approaching graduation, brides looking forward to the big day, and professionals who want to make a good first impression all love Invisalign. The appliances are practically undetectable, with no ugly hardware or wires. Plus, patients remove the aligners for:
daily brushing and flossing
eating and drinking
pictures and special occasions
Typically, people wear the appliances 20 to 22 hours a day. Aligners may be equipped with colored compliance tabs that help dentists, parents and patients see how well teens adhere to the treatment plan.
Better Looks and Health
While a beautiful, straight smile is a lifestyle asset, so is good oral health. The American Academy of Periodontology maintains that mouths with well-aligned teeth have fewer cavities and less gum disease. Plus, a healthy mouth means better systemic health, too.
Explore Invisalign
Don't wait. Learn about the benefits of Invisalign clear aligners and how they could help your smile. Call (360) 895-4321 to arrange a consultation with Drs. Grieser, Yoder, and Sullivan. Start enjoying the bright, attractive smile you deserve.