Will Dental Bonding Fix My Teeth? Why dental bonding might be right for you.
If you are unhappy with how your teeth look, there are many cosmetic dentistry options for you to choose from, and the dentists at Family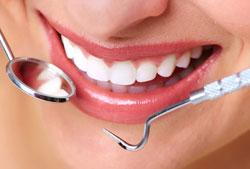 Dental Associates in Port Orchard, WA - Dr. Peter Grieser, Dr. Tracy Sullivan and Dr. Kevin Yoder - are here to discuss your choices. They are your neighborhood experts on cosmetic dentistry, including dental bonding.
The Benefits
You may know someone who has had composite bonding and may admire the results. But it's time to decide if dental bonding is right for you. Bonding can be used to fix teeth that are chipped, cracked or have age-related wear. It is used primarily to fix many cosmetic issues such as:
Teeth discolored from medications such as tetracycline
Excessively stained or yellowed teeth
Small spaces or gaps between teeth
Minor tooth overlap
Bonding will also become a virtually invisible addition to your sparkling smile, and the procedure can be completed in one convenient visit and with no discomfort. It is a state-of-the-art solution to cosmetic issues, and the best part is that it's often far less expensive than other cosmetic treatments.
The Procedure
The dental bonding process uses a tooth-colored resin called composite, which your cosmetic dentist in Port Orchard will color-match to your teeth, giving you a completely natural, beautiful look.
The first step might involve a minimal preparation of your tooth, followed by application of an etching material which is rinsed off. After the etchant, composite is applied to your tooth and hardened or "cured" with a special ultraviolet light. Your dentist will further shape and polish your composite bonding until it looks perfectly natural.
Only your dentist can tell you if dental bonding is the answer to your individual cosmetic issue. That's why it's important to visit the dentists at Family Dental Associates in Port Orchard, WA and find out what they can do for you. Call today and start improving your smile!