How Invisalign from your dentist in Port Orchard, Washington can give you a straight smile
You want a straight smile because you know it will look great, but you think it will also take a few years to achieve. Fortunately, you can get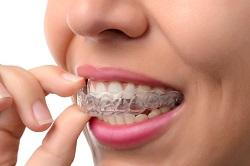 the straight smile you want in far less time, and far easier than you thought possible. You need to discover Invisalign, the state-of-the-art, virtually invisible way to straighten your smile. The dentists at Family Dental Associates in Port Orchard, Washington want to share what you should know about the benefits of Invisalign.
Invisalign uses a system of custom-made trays, known as aligners which you wear daily. You can remove the aligners to brush your teeth and eat the foods you love, which provides two important benefits:
You can brush and floss easily, keeping your smile healthy

You can eat whatever you want without worrying about food in your braces
The aligners are made of smooth, clear plastic which offers unique benefits people love, including:
A discreet appearance, because the clear plastic provides virtually invisible treatment; no one will notice you are wearing them.

A comfortable experience, because there are no sharp metal parts to irritate and rub against soft tissue
You wear the first set of trays for two weeks and then change to a new set, which you wear for another two weeks. You change to a new set of aligners every two weeks until your treatment is complete. You will be amazed because:
Treatment is fast, requiring only nine to fifteen months

Treatment is comfortable because your teeth are moved gradually
Invisalign is an excellent option to correct many of the same alignment issues as conventional brackets and wires. If you have an overbite or underbite, open bite, or crossbite, Invisalign could be the perfect choice for you. If your teeth are poorly-aligned, you can straighten them with Invisalign. If your teeth are overlapped, or gapped apart, Invisalign can eliminate the overlap and close the gaps.
For more detailed information about Invisalign, please visit the Invisalign section on the website at https://www.tlcddsfamily.com/invisalign.html
You deserve a straight smile; you deserve to enjoy the benefits of Invisalign. To get started, call the dentists at Family Dental Associates in Port Orchard, Washington Dr. Peter Grieser, Dr. Tracy Sullivan, and Dr. Kevin Yoder. They want to help you achieve the straight smile you've been waiting for, so call today!