How cosmetic dentistry services from your dentists in Port Orchard, WA, can enhance your smile
Have you discovered the magic of cosmetic dentistry? If not, you owe it both to yourself and your smile to find out how these treatments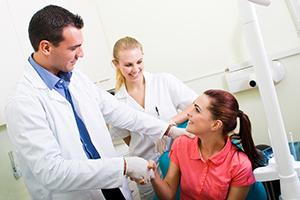 can completely rejuvenate your look! The only question is, which cosmetic dentistry procedure is right for you? Drs. Peter A. Grieser, Tracy C. Sullivan, and Kevin L. Yoder, your dentists here at Family Dental Associates in Port Orchard, WA, offer a wide range of cosmetic dentistry services to give you an outstanding smile—read on to learn more!
Some of our available cosmetic options
There are many cosmetic dentistry procedures for you to consider, including:
Professional teeth whitening, which can turn a dull, uninteresting smile into a smile you will be proud to show off; professional teeth whitening can whiten your smile up to 3 shades, and your dazzling results can last up to 2 years and with an in-office procedure to make trays you can take home and use over and over again.
Dental bonding, which uses tooth-colored material to cover up chips, cracks, tooth wear, and other unsightly dental issues; dental bonding is an easy, painless procedure which typically requires no anesthetic and can often be done in one appointment. It's the perfect procedure to rejuvenate an aging, damaged smile.
Porcelain veneers, which are thin laminates of porcelain that are permanently cemented on to the front surfaces of your teeth; veneers are a versatile dental treatment which can hide many aesthetic issues with your teeth. Consider porcelain veneers if you want to hide broken tooth structure, fracture lines, cracks, chips, tooth wear, and discolorations.
Dental implants, which are the closest to having your natural teeth; dental implants look and function just like natural teeth. They are firmly embedded in bone, so they will never move around, and you never have to worry about tooth decay again. The implant crown material is also stain-resistant, meaning that your dental implants will stay beautiful for years.
Interested? Give us a call!
To find out more about these and other cosmetic, restorative, and preventive dental services, call the dentists here at Family Dental Associates in Port Orchard, WA, at (360) 895-4321!